Window Cleaning
Utah's first IWCA Certified Window Cleaner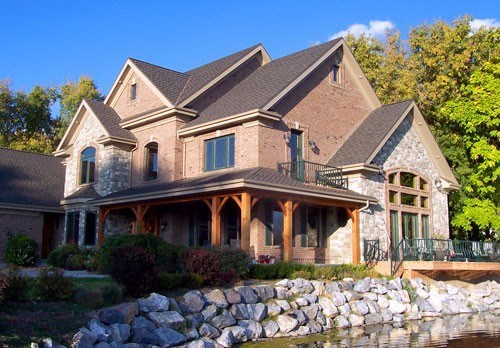 How often should I have my windows cleaned?
The Glass Association of North America (GANA) recommends cleanings when "dirt and residue appear". Regular cleanings are extremely important as the risk of harmful deposits, which can damage glass, are reduced. Common schedules are monthly cleanings for businesses and quarterly service for residential clients. Glass replacement or repair is not cheap. Please allow us to protect your investment.
I have several windows that are damaged. Can you help?
If you have moisture between your panes this is referred to as I.G. (insulated glass) failure. Many windows stay clear after 30 years when others are clouded in only 30 days. If you are experiencing this, refer to your warranty information sooner rather than later. The reasons for failure often trace back to manufacturing mistakes or oversight. Even the best fabricators will have some failed units. However, the window is still defective and not your fault. Reputable providers of quality glass will stand behind their products. The scratches on your windows are surface damage caused by many different things. Call us and we can help pinpoint the source or your problem.
Can they be fixed rather than replaced?
With the GlassRenu technology Wadley Services can repair and restore any defect, corrosion damage, or scratch on any glass surface. Please visit Glassrenu.com to learn about the process we use. We have used other systems in the past and have upgraded to what we feel is the best the industry has to offer. If you are experiencing an internal panel problem or condensation issue, it is either time to replace or preserve with a condensation removal service. Wadley Services does not currently offer a condensation removal service but there are several providers of this service in Utah who will be more than happy to assist you. Avoiding replacement can be green for the environment and your wallet.
How do I get an estimate?
You can use our online system right now or call us for an price average over the phone. Before we begin your service we will add up your job with our formula sheet and give you an exact written breakdown.
Can you give me some pointers on cleaning my own windows?
Cleaning windows correctly and safely is a much larger endeavor than many realize. We do not recommend the inexperienced to work on ladders for obvious safety reasons. However, if you have the time and equipment to clean your own glass we will be happy to give assistance by answering any questions you may have. We also regularly answer questions from new companies just starting up and others wishing to draw from our years of experience. We are always willing to help in any way we can so please do not hesitate to ask.
I have a home in St. George and one in SLC. Who will be cleaning at each location?
Our window cleaning workforce is local to the regions in which we serve. A supervisor who lives in St. George will be cleaning your St. George home and a Wasatch Front employee will be cleaning your windows in SLC. We always work local when possible to avoid additional drive time.
What do you use to clean windows?
We always use the safest and most professional cleaning solution for the task at hand. It is very exciting to see eco-friendly product developments in the cleaning industry and we are proud to use a "Green Seal" certified window cleaning solution.
Some rooms in my home get really warm. Should I have the windows tinted?
There are some wonderful window films on the market today. However, having the best products installed improperly can be a homeowner's worst nightmare. Unfortunately, we have seen it firsthand too many times. We recommend calling an I.W.F.A. certified installer in your area. Visit the IWFA website to locate your nearest professional.
Do you have a guarantee?
Yes, we guarantee our work to the customer's complete satisfaction. Second, we also have a full 3 day weather guarantee for our residential maintenance clients. This assures piece of mind knowing we will not service your location before questionable weather. Most people don't realize it is actually poor air quality not rain water which soils windows. We will re-clean one window or the entire job if needed. A maintenance program form is given to customers who request regular service.
I can't seem to find the company that did my windows last year. Can you do it for the same price?
It's possible but probably not. You see, there may be a reason you can't locate them. They may have moved out of town but also may have priced themselves out of a job. Price is always a concern but knowing your window cleaner is a certified professional that offers quality work is priceless. That's real value.
I love my home very much an am careful who I hire. How can you assure me no damage will occur?
We take pride in our work and always care for our customer's property as if it were our own. We are very particular and our clients love that about us. We always use shoe covers and drop clothes to protect carpet and wood floors. Ladders are also equipped with bonnets and pads to protect your interior walls and exterior surfaces. We care and it shows!
Isn't all window cleaning the same?
No! Having a license, insurance, good equipment and experience is a good start—many don't have those basics. A true professional would have such qualifications and more. Our owner, Brett Wadley, was Utah's 1st International Window Cleaning Association Certified window cleaner.
What other kinds of cleaning do you do?
We offer many specialties. We have the capability to safely dry clean your felt pool table top, silk oriental carpet, Tahitian cotton upholstered fabric, and the velvet swags and blackout drapes in your theater room. We can clean up that oil spill on your garage floor and the soiled solar panels on your roof. Air ducts in your HVAC system and muuch more.
8 Reasons To Choose Wadley Services
1. Safety
By always using the proper equipment and ongoing safety training, we are dedicated to keeping safety a top priority.
2. Clarification
Utah's first certified window cleaner through the I.W.C.A (The largest window cleaning organization in the country) was Wadley Services' owner, Brett Wadley
3. Insurance
We are always fully insured with $2M liability, $1M workers compensation, and $1M commercial auto insurance. Current insurance information is available upon request.
4. Products
We always use professional window cleaning solutions and equipment. The residue left from inferior products attracts dirt resulting in windows getting dirtier faster.
5. Advancements
Our industry is constantly changing. To keep current on all new products, improvements, and challenges, we attend conventions and industry trade shows. We also continue our education by staying connecting with other industry organizations.
6. Guarantee
We promise nothing less than your complete satisfaction and stand behind the quality of our work.
7. We Care
All of our ladders are protected with mitts or bonnets to safeguard your personal property inside and out. Drop cloths and shoe covers are also used inside to keep your home clean. We care for your property as if it were our own.
8. Peace of mind comes from knowing you've hired the best window cleaner in Utah.
Exterior Window Cleaning
Windows can be damaged by mineral deposits left after water evaporates off glass. The amount of damage and cost of removal depends on the stage of corrosion. Although we can restore most any piece of glass, prevention is the key to saving money. We recommend secondary water for irrigation when possible. Culinary water is more expensive and leaves more stubborn mineral stains on glass. Keeping water away from buildings not only protects glass but can also prevent water damage in basements. Exterior glass should also be protected from trees and overgrowth. This helps the surface remain cleaner, prevents damage, and saves money.
The products we use to clean exterior glass are specifically formulated for that purpose. Consumers are unaware that most window cleaning companies cut their costs by using everyday dish detergent in place of professional products. These soaps can be somewhat effective in cleaning, however, they are also effective in attracting dirt. Joy and Dawn dish-washing detergent are the most common substitutes. I have heard many in the industry say they have been using it for years and have no reason to stop. Perhaps they should visit Dawn's own website under Q & A where Proctor and Gamble states, "Dawn is not recommended for window cleaning, car washing, body wash or washing hair." The Glass Association of North America (G.A.N.A.) recommends using only "commercial window cleaning solution" on glass. It would be unacceptable for your carpet cleaner to use the wrong product and leave behind soap scum to attract dirt; why then would any consumer allow a window cleaning service to do the same? In addition to using the right product for the job, protecting glass can also be done by treating it with an appropriate sealant.
Interior Window Cleaning
The frequency of interior window cleaning is determined by more than just fingerprints and cobwebs. Air quality in your home can also be a major factor. Always keep filters in place and replace them often to prevent airborne dust. Ceiling exhaust fans should be used to remove steam in bathrooms, and hood or range fans should run on high to extract grease and smoke in kitchens. Having clean window screens and closing windows when it is windy can decrease unwanted particles in the air keeping interior glass clean longer.
The products we use to clean interior glass promote an anti-static environment on the surface of the glass. A neutral cleaner made specifically for glass will help interior windows stay clean longer by reducing the attraction of air pollution onto glass.
Important: Please understand there is a drastic difference between cleaning window film and regular annealed glass. If you hire a professional to place a tinting film on your glass we recommend a professional member of the I.W.F.A. Find a local accredited service provider near you by visiting  http://www.iwfa.com/BusinessLocator/FindADealer.aspx . If you choose to have window film installed please be certain to treat the surface according to the manufacturers recommendations in between professional cleanings. Remember, we use special tools and solution to protect your investment when we clean.
Several of the many window cleaning products we use are pictured below along with some of their company logos.
Mail
357 South 640 W
Pleasant Grove, UT 84062
Mail
P.O. Box 1280
St. George, UT 84771-1280